Everyone has seen the acrylic wall frames used to display posters in corporate offices, estate agents and living rooms. The effect is professional and stylish, however as these are typically installed using 4 screw holes a degree of expertise is required when installing on-site or changing the graphic.
Visionwall is a revolutionary range of acrylic wall panels that don't require any on-site or off-site installation skills. All you need is some kind of digital colour print device that prints good quality images.
How does it work?
Visionwall panel kits consist of a 3mm thick clear acrylic front panel, 8mm thick black backing board with hanger, 4 black standoff mounts and smart, clever magnetic fixings.
Installation

1. Push metal buttons into black studs, then insert into the backing board
2. Clip the hanger in place, choosing portrait or landscape orientation
3. Lay the acrylic front panel over your picture and drop the 4 magnets into the pre-drilled holes
4. Display your beautiful Wall Art
To change the image, simply remove the magnets, swap out the image and replace the magnets – a new look in seconds!
Download the brochure here.
Advantages of Visionwall over traditional acrylic mounts
Quick to create and install
Simply print the image and insert into the frame. No need to drill holes in each corner to secure to the wall
No equipment required
The only additional item you need is your image
Versatile hanging options
One centre point allows you to easily change image orientation
Rejuvenate walls in seconds
Visionwall allows the end user to quickly change the graphic at any time

Practical applications
Online print/photo shops
Visionwall can be easily shipped anywhere in a box, no need to install
High street "while-u-wait" Print Production
A great eye-catching product for window displays.
Inhouse printrooms
Maximise revenue and add value by printing wall art for your offices/University etc, and sell to colleagues or students to maximise your potential and profitability!
Home and office
Brighten up your home or office for minimal expense with this self-production wall art - a marketing department's dream!
Common Questions
Q. What images can I use with Visionwall?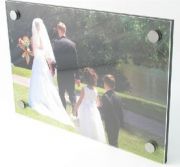 A. You can use good quality images printed from any kind of digital colour print device.
Q. How do I change the image?
A. Simply remove the magnets, swap out the image then replace the magnets.
Q. What sizes are available?
A. Visionwall is available from Ashgrove from stock in 5 different sizes: A4, A3, A2, 12"x18", 20"x30" We can order additional sizes if required.