Are you coming to the Print Show next week? If you are, Ashgrove look forward to welcoming you to our stand at the NEC, Birmingham!
If you are still wondering whether to come, please do give it serious consideration as we are confident it is going to be a very worthwhile event that will strengthen and give focus to the UK printing industry.
Here at Ashgrove we're getting seriously pumped up; we'll be setting up on Monday to ensure we're totally ready to meet you all from the minute the Show opens at 1000 on Tuesday.
Our stand this year – P105 – is a good bit bigger and better than last year, and is right by the main show entrance. Just turn to the right as you enter and you'll see us; we'll be waiting for you! Click here to download the event floorplan.
There are a host of innovative products for you to see and try on our stand that will help you add value to digital print, produce more in-house, and increase your profitability! Here's a taster:
· Picofilm and Enduro - tearproof, water-resistant durable films and papers for digital print
· Mesa boards – print fine art quality directly to board with your Epson printer!
· Quickpro and Visionwall – professional wall art in less than 2 minutes
· Goldtex – Multipurpose printable textiles for large format inkjet
· NEW! OKI Pro-series SRA3 light production printers - quality output for low capital outlay
· NEW! Uchida U-Booklet Desktop Autoset Bookletmaker – UK exclusive launch!



LAST BUT NOT LEAST, TAKE PART IN OUR TEARPROOF CHALLENGE AND YOU COULD WIN A BOTTLE OF MALT WHISKY!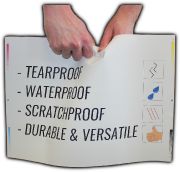 We're offering a full bottle of highest quality Malt to the first person who successfully tears a sheet of A4 Picofilm with their bare hands – you have 20 seconds to succeed (no teeth, scissors or knives allowed). If you don't succeed, don't despair – you're still in with a chance! If no-one wins outright we will enter all participants into a raffle on Thursday afternoon and pull a winner from the hat!
All in all, it's going to be a great show. Click here to register for The Print Show