HOT NEWS! You don't need a flatbed printer to print straight to board - you can do it on an Epson printer!
Most Epson large format aqueous inkjet printers, as well as some Canon, can accept board sheets up to 1.3mm thick. Mesa Inkjet Matt Artboards are natural white, 1.3mm thick conservation quality with a premium inkjet coating.
This brilliant addition to the Whitegold range can be printed both sides with true photo/fine art quality, directly to the board using compatible aqueous inkjet large format printers. Meaning that you can produce framed art and portraits without the need to mount after printing.
Simply print, frame and hang!
VIEW PRODUCT VIDEO BELOW
How Does It Work?
Mesa Inkjet Artboards can be printed on using your printer's poster board setting. This setting is available on most Epson large format aqueous inkjet printers and on several Canon printers (click here to check compatibility for your printer).
1. Select the poster board setting
2. Feed the Mesa board sheet directly into the machine & line it up
3. Select the Enhanced Matt Board profile setting
4. Select the Mesa board size on your print options
5. Press print
6. Frame and hang, no need for mounting!
Click here to download our compatibility guide and check compatibility with your printer.
What About Print Quality?
Pigment ink printers provide pin-sharp graphics and vivid colours that simply cannot be matched by any solvent, latex or UV inkjet printer.
The print quality that can be achieved on Mesa photoboards is simply stunning, and the end result is remarkably scratchproof and water resistant too.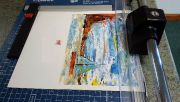 Working With The Material
Mesa Photo Matt Artboards are versatile and easy to work with:
Printing
· Print straight from the box, just load the sheet and print
· Print with equal quality on both sides
Finishing
· Trim to size using most kinds of board trimmers that can handle 1.3mm thick material
· Round corners, insert eyelets or hole punch for hanging using your standard tools
Is It Expensive?
Actually, Mesa boards are surprisingly inexpensive; price per sheet varies between £1.70 (A3+) and £8.30 (30"x40"). (exc VAT)
Mesa Inkjet Artboards are available from Ashgrove in A3+, A2, A1, 24"x30" and 30"x40" sizes. Packed 10 or 20 sheets depending on size.
This revolutionary addition to the Whitegold range of specialist print media serves as further proof that innovative print materials for large format digital are on the increase; every printer and printroom needs to watch new product launches closely to ensure you maximise profitability from your inkjet printer.
Aqueous pigment inkjet printing is far from dying, it's still the answer for beautiful fine art!
ORDER HERE NOW
ALSO AVAILABLE IN SATIN & GLOSS.
ORDER SATIN HERE
ORDER GLOSS HERE
Contact Ashgrove - the UK's friendliest specialists in innovative materials for digital printing and finishing – to find out more today!