About foil printing
Shiny metallic foil printing has been around since the Ancient Egyptians applied beaten gold to mummies and coffins. Today, with print being increasingly focused around high quality, low volume, personalised visual impact, foil printing has never been more popular. We humans love a nice shine – what better way to make the needed impact?

The traditional process:
Traditional foil printing or "foil blocking" hasn't changed much in the last 100 years. The process involves an engraved metal die, a roll of metallic foil and a heat stamping machine which presses the foil between the die and the substrate with heat applied, thus transferring the foil design onto the substrate. Setup and operation of the equipment requires skilled printroom operators with years of training and experience.
So how from your office desk?
Enter digital foiling! This simple but revolutionary process involves using toner – sensitive metallic foil to turn everyday black laser prints into beautiful metallic foil designs. All you need is a decent laser printer and a small desktop device with heated rollers such as the Foiltech FT-12. Pass the printed sheets through the rollers to turn black toner into shiny foil print. The foil sticks to any exposed toner on the sheet, with results comparable to - and in some instances superior to - traditional foil blocking. Digital foil comes in a large variety of colours including clear which can be used for "spot UV" highlighting. If you can print it, you can foil it!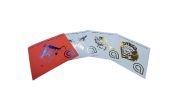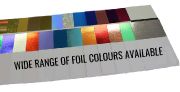 Potential markets and applications:
Because digital foil requires no expensive metal dies, no run is too short to be viable, and personalisation is no problem providing you can print with variable data.
A few ideas as follows:
Wedding stationary and invites
Personalised book covers
Bespoke "made to order" greeting cards
Event stationery e.g for dinners, exhibitions, board meetings
Bespoke short run packaging e.g cosmetic boxes
What you need to get started:
Desktop solutions
Basic digital foiling just needs the following:
Decent quality laser toner printer that will print good solid black e.g. OKI Pro9431
Digital foiling device such as Foiltech FT-12
The limitations of basic foiling are that all print on the sheet is foiled. If you would like to print a coloured background and just highlight in foil you may wish to add a desktop laminator such as Matrix Duo. Print the background, overlaminate using soft touch matt film e.g. Goldgrip Velvet, print again with black toner and then foil for stunning visual effects.
Floorstanding solutions
For higher production and more advanced control in a printroom environment, equipment like the D&K Neptune and Vivid Matrix Pneumatic are good options for digital foiling. These machines are production digital laminators with foiling unit added, so no other equipment is needed aside from your production toner printing device e.g Ricoh, HP Indigo, Konica Minolta, Xerox etc.
Benefits of Digital Foil Printing:
No block charges make very short run/personalised foiling a real option
Give added value to your clients and add creativity for minimal equipment outlay
Premium creative effects can be achieved very simply – either foil or "spot UV"
Very reasonable material costs (approx. £0.20 + VAT per SRA3 sheet full coverage; where coverage is small the roll can be reused many times, making the cost per sheet much lower.

Limitations of Digital Foiling:
Speed is relatively slow, especially when doing multiple print passes, so is typically for short run only.
Digital foiling will work best on smooth stocks which run through digital presses, i.e. not suitable for leather, PU etc.
To find out more, contact the friendly team at Ashgrove today – phone 01779 470606 or email [email protected]