QUICKPRO CANVAS FRAMES – THE PERFECT CHRISTMAS GIFT, AND SO EASY TO PRODUCE
Ever thought about offering canvas frames to your customers but decided against it as they're too much hassle to produce?
Quickpro Easy-make Professional Canvas Frames are the perfect solution!
If you have a pair of scissors, a paper stapler and a wide format inkjet printer (or even an SRA3 digital toner printer!) you can offer professional wall art to your customers and create while they wait in less than 3 minutes!
The end product is in no way inferior to traditionally stretched wooden frames and cost per frame is very competitive.
Quickpro canvas frames are a win-win for printers!
The advantages:
Ease and Speed of Production, 2 minutes - literally!
Tightly Stretched Finish due to clever design
Perfectly formed corners every time
Multiple material options – even gloss paper can be used
No-sag strength and durability
Ease of transportation and customer installation – perfect for the online market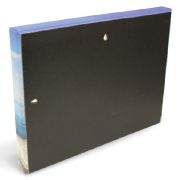 As an added bonus there is even an online template program that takes all the hassle out of the artwork setup – simply upload your image and the program will set it up for the correct size of frame and prepare the edges!
Go to http://www.quickpro.ultra-canvas.com/
Quickpro Canvas Frames can be created with or without a backing board, and are available from Ashgrove in a range of sizes from 8"x8" to 20"x30".
If you have an aqueous printer, consider printing on Sierra non-crack inkjet canvas which is remarkably scratch resistant without protection, and has great flexibility making it ideal for Quickpros.
For solvent/eco-solvent/latex printers Skye Solvent Canvas is a great bet.
TO DOWNLOAD THE QUICKPRO INSTRUCTION GUIDE CLICK HERE OR VIEW THE VIDEO HERE
Offer more to your customers this Christmas period by creating stunning wall prints with ease.