If you've been to any large format print exhibition recently, you will no doubt have seen countless demonstrations of advanced digital textile printing with all sorts of soft furnishings and garments on display.
The reality is though, that only relatively few print producers will ultimately invest in the sewing and finishing equipment required to make digitally printed garments, cushions, curtains etc, and no-one would blame you for considering carefully and then deciding "not for me".
But that doesn't mean you shouldn't consider printing onto textile!
So long as you have a decent graphics-quality wide format inkjet printer, either aqueous, latex or solvent/eco-solvent, you can easily generate extra profit and wow your customers with printed textiles. Yes, even aqueous printers eg HPZ6200, Canon ipf8400, Epson Stylus Pro 9880 etc, can produce printed textiles that are water and scratch resistant without any further protection.
You don't need any special finishing equipment, all you need is a decent rotary trimmer!
Some textile items with a ready market that can be produced easily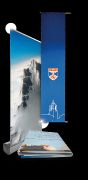 · Textile Posters – these are super popular with students - indeed anyone who needs to travel with their posters (particularly on flights) - as they can be neatly folded up in a suitcase then unfolded and gently ironed on arrival! Plus with greatly added durability over paper posters, the initial extra cost is very quickly saved. If you print posters, consider this today!
· Hanging Banners – Polyester Textile prints better and hangs flatter than traditional PVC banner, making it ideal for large hanging banners.
· Exhibition Graphics – Textiles are increasing popular for a large variety of exhibition display purposes, simply print and utilise!
· Wallpaper and interior decoration – Polyester textile is very conformable and is available with strong repositionable adhesive, making it perfect for short-medium term interior decoration on walls, furniture etc. Can be very easily applied and removed without residue. A truly great design innovation.
· Roller Blinds – These are remarkably simple to produce, simply print, cut and insert for instantly functional, beautiful and creative interior design!
Why polyester textile is great to print onto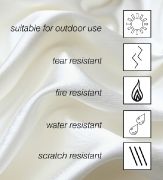 · Vibrant colours and fine detail with relative ease
· Water and scratch resistant prints (even with aqueous printers)
· Quick drying
· Easy to handle without damaging the print
· Easy to cut without fraying using standard rotary trimmer
Contact Ashgrove today for more help on how to start textile printing straight away!
Available products – the Goldtex range

Goldtex easy print/cut textiles are available from Ashgrove for all types of large format inkjet printer.
For Aqueous or Latex printers:
For Solvent, Eco-Solvent, Latex or UV printers:
READ MORE ABOUT PONGS TECHNICAL TEXTILES HERE